FIFA 20 Demo: Release date announced, Volta Football, Career Mode, Beta and more
2019-09-10 14:03:27 Read the
The greatly anticipated FIFA 20 Demo is set to be released, after heaps of leaks have come from the FIFA 20 Beta version.

Twitter believes that the trial of the new EA Sports game will arrive on September 10th, after various leaks online.


The FIFA 20 Demo is a chance for players (who didn't get into the beta) to get some hands on experience with the game – this will include Pro Clubs, Volta and Career Mode updates. The FIFA 20 beta is now closed for those who opted in to receive emails from EA Sports.
As we head towards the end of FIFA 19, player numbers drop off which will add pressure onto the development team to ensure the FIFA demo excites.
Demo Release
The demo for the game only tends to come out two weeks before the game's full release, so this should be on
Se
ptember 12, 2019
.
A leaked image on the FIFA sub-reddit looks to have confirmed this, along with all the game modes at teams to be used in the taster this year.
Teams
Expect similar teams to last year on the demo, where we had Manchester City, Manchester United, Tottenham, Real Madrid, Atletico Madrid, Juventus, Roma, Bayern Munich, Borussia Dortmund and PSG to choose from. With Barcelona, Arsenal, Liverpool, AC Milan & Inter Milan all having licensing agreements with Konami's Pro Evolution Soccer, don't expect them to appear on the FIFA demo.
The image above reveals the clubs to be:
●  Liverpool

● Real Madrid

● Borussia Dortmund

● Manchester City

● PSG

● Roma

● Atletico Madrid

● Club America

● Los Angeles FC

● Vissel Kobe


Gameplay
Even before E3, it was released in The Pitch Notes what the areas of focus were for FIFA 20.
More realistic finishing, improved defending, a passing overhaul, more difficult chained skill moved and goalkeeper movement being reduced were all mentioned, marking a fantastic start for the FIFA 20 cycle.
Early access?
EA are consistent with their release dates, and it looks set to be the final Friday in September which will mark the full release of FIFA 20. This year, that will be September 27, 2019, but we can expect types of early access too.
Those who sign up to EA Access get eight hours of gameplay around one week before the game comes out (from 21 September), and those who pre-order the lucrative versions
(Ultimate or Champions Edition) of the game can jump the queues and start playing three days before official release. That would be on Tuesday, 24 September 2019.
Remember, you can find out more news about FIFA 20 by heading to our absolutely everything about FIFA 20 piece here.
Volta Football
Volta Football is the big new draw for FIFA 20, and it looks as if the street mode will make its way onto the Demo.
Even if it is just a kick-off exhibition match, fans will be eager to see how the small-sided mode feels on the new game. We can pray for a little taster of Volta Story, but that may have to wait for the full release.
Career Mode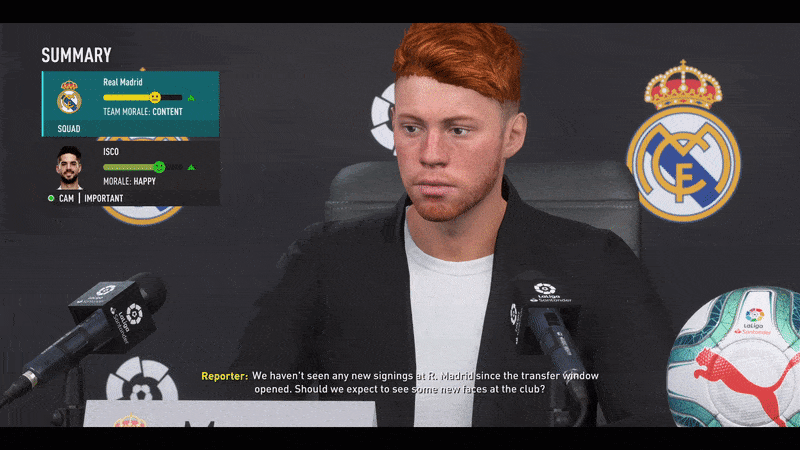 Career Mode gets a revamp this year, but we are unlikely to see it in the Demo. The leaked image suggests some Champions League action, so maybe you will be able to play next year's final in Istanbul.
Ranging from the customisable managers, to interactive press conferences and player chats, it would be great to see a sneak peek.
Don't expect to get any Ultimate Team or Pro Clubs tasters on the Demo, so you can save your money on FIFA Points until the full release on September 27.